"Welcome to Nagorno Karabakh"
English Language Informational CD-Rom is Now Available!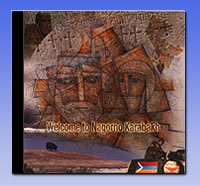 Above: CD-ROM's front cover
EXCLUSIVE OFFER: Donate $25 or More
to the NKR Office and Receive This Unique
Cd-Rom as a "Thank You" Gift!
Please, Mail Your Checks Payable
to the "NKR Office" to:
NKR Office (CD-ROM)
1334 G Street, NW, Suite 200
Washington, DC 20005
Government Agencies, Foreign Embassies, Think Tanks, Libraries, Universities and Schools, please contact us by email for more information. Include your full name, position and affiliation.
THE CD FEATURES: 7 HIGH QUALITY VIDEO PRESENTATIONS:
Artsakh Liberation Movement
Humanitarian Crisis in Artsakh
Refugees - Shushi Liberation
The OSCE Peace Process
Economy of the Nagorno Karabakh Republic
The NKR Parliament
All-Armenian "Hayastan"
FIND OVER 180 PHOTOS:
NK War of 1991-1994
Architectural Monuments
Nature - Cultural Heritage
Society - NKR Government
NKR Defense Army
The Cd-Rom is Loaded with Extensive Information, Including Printable Material about Nagorno Karabakh, its Heroic Struggle for Freedom, as Well as the History and Culture of the People of Artsakh!
CD-ROM'S MAIN CHAPTERS:
General information (basic facts, geography, culture and economy)
Government (structure, elections)
History (from ancient times to our days)
Library (references, documents, maps, video and photo material)
DON'T WAIT; SEND YOUR DONATION TODAY TO SECURE YOUR COPY!
The CD-Rom is produced by the NKR Foreign Ministry and published by the NKR Office in the USA. The CD-Rom comes in a sealed 'jewel' box. All rights reserved. Unauthorized duplication is punishable to the fullest extent of applicable laws.